Weddings in Cyprus
Flower Orders
We offer a variety of wedding bouquets and Arrangements !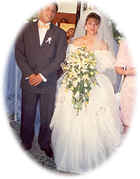 The flowers available in Cyprus no longer differ much from any other European country and are often imported. Of course local flowers vary with the seasons. The pictures at wedding flower arrangements were taken in response to requests to show some idea of the range of flowers we have supplied for weddings. This is an old page and is meant as a general guide only, as fashions change, so do we. But these are the kinds of wedding flower arrangements you can expect to receive from Cyprus flowers. We provide also specially ordered wedding bouquets, for your special day which will match the style and colour of the outfits you and your attendants will be wearing.. everything from corsages to special flower head pieces to brides bouquets and bridesmaids posies and petal baskets. See some wedding flower arrangements for your venue, be it town hall registry office, chapel or church.


Some examples of simple decorations by Cyprus Flowers
You may show us what you want in pictoral form or just describe the style and colour scheme.







A simple table arrangement

This was ordered as a town hall table decoration to be used later in the hotel room.

The cost of such an arrangement is 35 - 65 euros




A rose posy

Bridal posies can be made in any colour you like, they are usual around 65 euros but dependent on which flowers you choose.
Flowers and gifts

Chocolates

In the winter months we supply either a Papier Mache box filled with hand made French or Belgian chocolates or a cardboard box with even more chocolates. All year round we supply the standard Milk Tray selection box.

More gifts and flowers

Toys and Teddy Bears


Children's toys - we have a selection of teddy bears and novelties for children, from babies to the older young at heart..



More about Cyprus gifts and teddy delivery

Wine and Champagne

We stock a variety of French and local Champagne which can be delivered to your reception venue. We also supply the wedding car with a bottle for the journey from the wedding to the reception. Travel in style.. We also stock French pink champagne, and a local make of method champagnoise :

Duc de Nicosie 
French Jaquart
French Moet & Chandon 
French Veuve Cliquot 
French Pink Champagne 
Dom Perignon Vintage 

The boxes to the right are for wine lovers. The first is perfect to present a bottle of wine or champagne as a gift. It contains all the toys a wine buff would play with, including a bottle opener.

The smaller box is purely the toys in a cute padded box. Highly portable and an unusual and thoughtful gift.

Vintner Sets and Gifts

Wine and vintners sets - The hand carved hard wood presentation boxes show can be filled with whatever wine or champagne you choose and delivered for an extra cost - we also have plain wood presentation boxes with vintners tools in the lid and separate boxes of vintners tools to be delivered with your favourite wine or spirit.


We will fill special requests such as diabetic goodies, children's toys or wedding gifts, just tell us what you want.

visit us: www.cyprus-flowers.com